The furious recovery with which markets rebounded from the lows in Mar/Apr of 2020 was astonishing and continued well into 2021. While stock prices did do well, many businesses also showed great resilience and upturn with significant growth in revenues and margins in FY22. Due to the significant volatility and change in several factors (inflation being the most important) our models on an overall basis showed a higher variance (in actuals v/s expected baseline estimates) than in the past.
Just like every year, we did an analysis on the deviations in Revenue/EBITDA between FY22 actual numbers and our base model estimates. The analysis was performed on 907 companies this time, for companies which have March Year-end.
The key takeaways are:
The Median of absolute "Revenue/EBITDA deviations" across 907 models stands at 14%/20% respectively, worse than our numbers in the past years. However for combined Nifty 50, Next 50 and Midcap 50, i.e. top 150 constituents these numbers stand at 7.7%/9.2% inline with our figures in the previous years.
The larger deviation was on account of the significant increase in business activity through the year over a very low base that we were working with in FY21. Significant inflationary pressures drove up realizations across the board leading to higher revenues.
Our models showed a conservative bias - Our baseline estimates were beaten in Consumer, Manufacturing, Services, Infrastructure, IT and inline in others.
Rapid coverage expansion meant we ended up covering too many small cap companies where higher fluctuations in numbers led to high numbers of deviations
Accurate areas - Financials, Telecom, Healthcare as sectors. Our models for several large cap companies such as SBI, TCS, HUL, Powergrid, HCLT, Gland, PI Ind etc had less than 5% deviation across Revenue/EBITDA/PAT.
Inaccurate areas - Our model numbers were off significantly in Oil & Gas, Natural Resources, Manufacturing, Automobiles and Consumer. Companies where our models were off significantly were ONGC, GAIL, Titan, Maruti, Tata Steel etc.
At overall topline level - IT, Healthcare, Financials and Telecom numbers were broadly inline with our baseline, while Manufacturing, Automobiles, OIl & Gas were ahead. None of the sectors at aggregate level were below our baseline numbers. In Cement despite being inline on revenues, lower margins meant significant downside deviations on EBITDA and PAT.
We measure the quality of our models on a few parameters mainly being:
The deviation that a base model has with the actual reported number at the end of the year on Revenue and EBITDA. We aim to keep this value within a range of +/- 10%.
The models should as much as possible reflect a true operational model of the company
Do note that our models are typically updated at the start of the year and are basically to help investors project their own views of the companies they are looking at. Do let me know if you would like to have a closer look at the data.
Below are the results:
Measuring models accuracy -> Note the performance of top 150 companies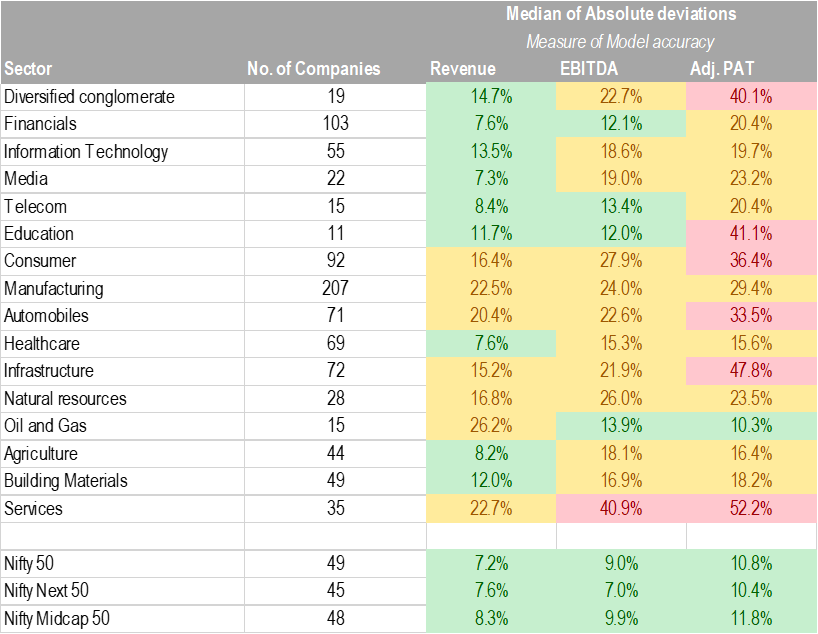 Measure of outperformance of baseline estimates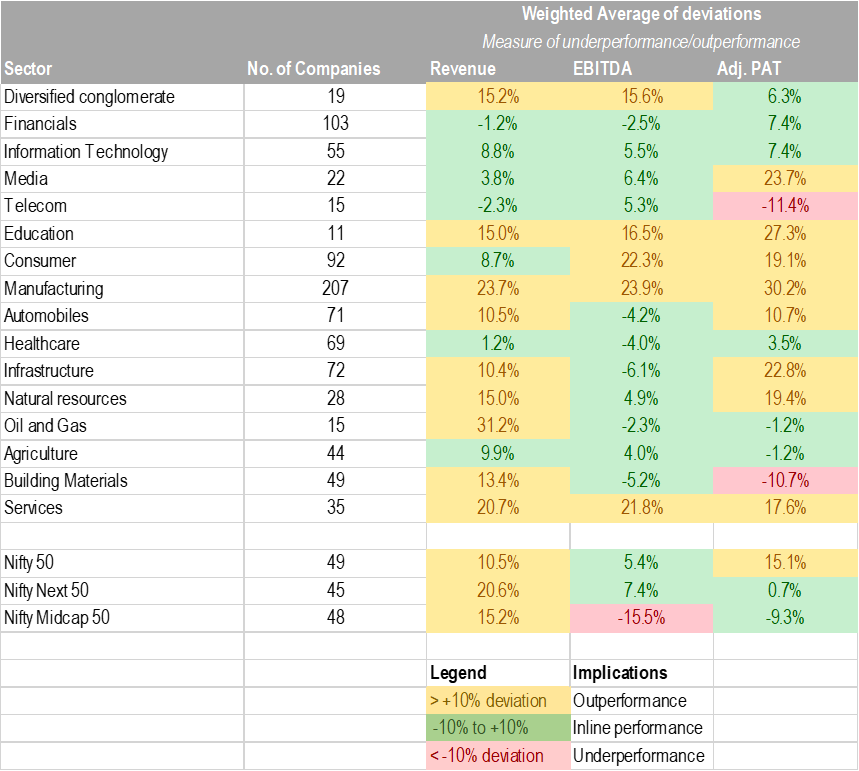 Scatterplot of Revenue and EBITDA deviations -> There is a conservative bias in our estimates this year