Hello,
Greetings from the DistrictD Team.
As the Q1 FY24 season is over, we are providing a quick read on sector-wise performace in this first quarter of FY24 on the basis of 1025 companies.
At the top line, sectors in the likes of Automobiles, Consumer, Financials, Media and Healthcare have done tremendously well whereas IT, Building materials, Services and Telecom have shown steady growth on a year-on-year basis. Agriculture, Oil & Gas and Education have shown significant decline on Revenue front. Manufacturing and Infrastructure have shown par performance this quarter.
Below is the table showing sector-wise performace this quarter on a YoY basis: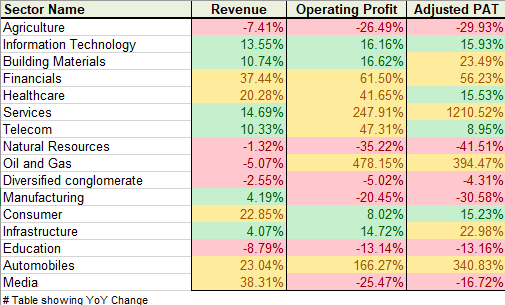 Coming to Operating Margins and bottom line peroformance, sectors like Services, Oil & Gas and Automobiles have shown huge rise in their operating and bottom line mainly due to great performance of large caps such as Indian oil, BPCL, Indigo, Tata Motors etc. Financials continue their good performance since like last financial year due to low provisioning cost.
On the other hand, Manufacturing and Agriculture sector still struggling to sustain their margins. Building Materials, IT, Consumer and Infrastructure shown steady growth at the bottom line.
Financials, Automobiles and Healthcare clearly outperform the other sectors at all three parameters - Revenue, EBIT and PAT.
In the second phase of this first half-yearly season of this financial year, we are focusing on update and improvise our Industry data, operational metrices of the companies.
Meanwhile, general updates on DistrictD platform are as follows:
Company Filings: We have uploaded the links of Annual Report of FY23 of around 500 companies and committed to upload them as soon as Annual report is out. As far as Investor Presentation of Q1 FY24 is concerned, more than 325 companies IP links have been uploaded and available for users on our platform.
Concalls Audio and Transcript: This quarter, we have recorded the highest number of concalls of 685 companies and uploaded over 200 concalls transcript.
IPOs: We added financial models of latest listed IPOs such as Utkarsh Small Finance Bank, Senco Gold, Ideaforge Technologies etc. to our coverage.
Also, we will make available updated model of Gillette India and Procter & Gamble Health Ltd for FY23 actuals as soon as their annual results is out.Watchout for our IPOs model of SBFC Finance, Yathart Hospital, Concord Biotech this week.