Hi,
Greetings from the DistrictD Team.
We are happy to announce that over 950 companies Q3 FY23 results have been updated in a timely manner. A season with lots of up and downs in the market due to various factors, lets checkout fundamentally the various sectors in this Q3 FY23 on the basis of growth in Revenue, EBITDA and Adjusted PAT.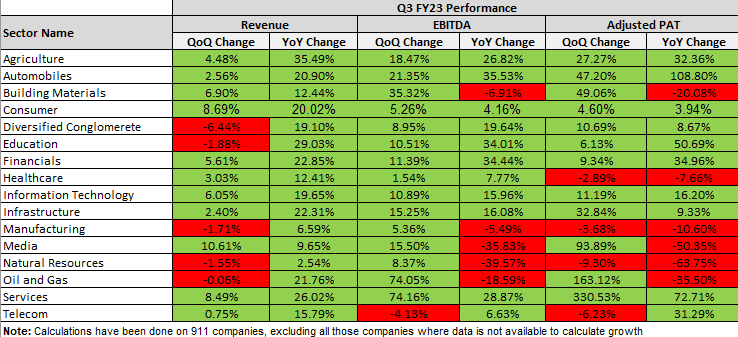 Agriculture, Automobiles, Services, Infrastructure and Financials have performed well from top to bottom whereas Consumer sector have shown a par performance in all three metrics. Margins have improved quite remarkably from last quarter despite almost flat growth in Revenue in Oil and Gas sector.
Manufacturing and Telecom sector is struggled to sustain their margins whereas Media has shown a good comeback from their last quarter's performance.
Some of the refinements at our platform in the past fortnight are as under:
SEBI Market classification – We have modified the companies' size with SEBI classification provided by AMFI as per the latest available data of December 2022.
Launched Tyre Industry – Tyre Industry is added to the industry page. Please visit our Industry page to get monthly Rubber Price data with Natural Rubber product mix.
Refreshed Industry data – We have updated the industry data for AMC, Ferrous and Oil Upstream Industry. Please visit at our Industry page to get latest updates about the industry.
Models Updation – We have updated the financial models for FY22 Actuals for the December ending companies such as R Systems International Ltd, Procter and Gamble Health Ltd, Varun Beverages, Castrol India Ltd etc.
In the second phase of february, we are focusing to update remaining december ending companies' models in the likes of Crisil Ltd, Nestle India Ltd, Linde India Ltd etc. Watchout for our new video on IT Industry analysis on our DistrictD youtube channel this week @ https://www.youtube.com/@districtdco